Did you realise it is a three step legal process in Australia to get married? The first legal document you need to complete is an NOIM or Notice of Intended Marriage. You may can find this on the Attorney General's website www.ag.gov.au under marriages.
This is completed with your celebrant NO LATER than one month prior to the wedding. I always recommend that you do it a lot sooner to ensure it is not overlooked as your date approaches! For this you will both need to produce your full original birth certificates or passports. I suggest your birth certificates are best if possible, because all your registered documents at Births, Deaths and Marriages need to line up with correct dates and spelling of names!
If either of you has been married before, you will need proof of the end of that marriage either a death certificate or your divorce papers.You may also be asked to poduce your photo ID if you are unknown to your celebrant.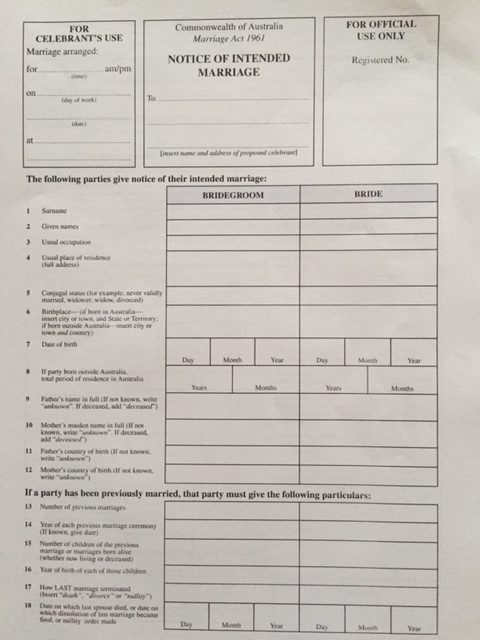 If you are filling in the form remotely from your celebrant, it needs to be signed in front of specific authorised witnesses before you send it off. Read the document carefully as they are listed under the signature box. This is different to other documents you may have had witnessed in the past! If you are not sure, give me a call on 0427 646 728 and I will explain this to you.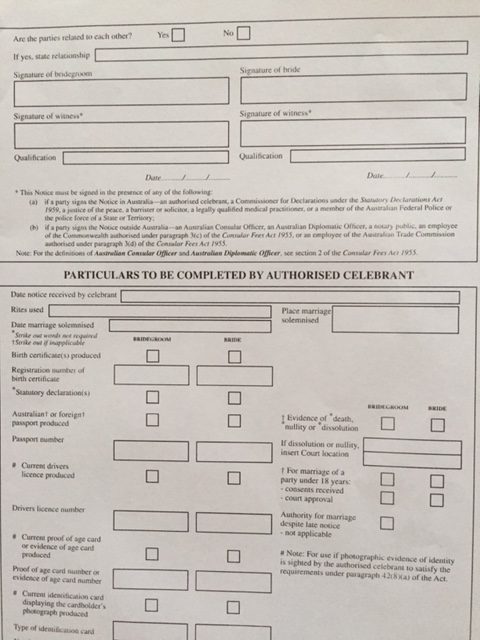 Have fun planning for your big day!